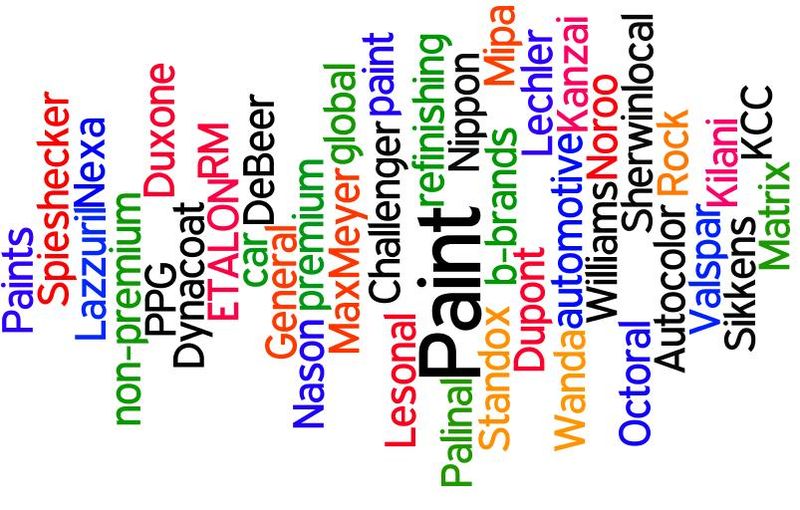 A few weeks ago I started a discussion on two LinkedIn groups with the title: "Which non-premium paint brand do you think is the best?" I was really surprised how many people commented. In total 74 comments on Automotive Refinishing Reloaded and Automotive Refinish groups were left. Therefore I decided just to make a small summation.
Firstly, as our colleague Hamid Elhalfi from Morocco stated, we need to explain what those "non-premium" paint brands are. Frankly speaking, I was very anxious not to offend any paint brand. The term doesn't mean that the products are not good. In fact, I wanted to describe automotive paint brands, which have smaller market share in global scale, while in their local markets they can be on a leading position. Another way to say is "b-brands", which I personally don't like, since it implies b-quality, while the actual meaning is "a brand to reach B-body shops". In addition, there is a trap in the question. Word "best" is provoking, but it did the job…
Under "premium" brands I refer mainly to the Big Four companies. Word "premium" is rather to describe image than the level of quality, which is, of course, not disputable. The Big Four are:
–          Former Dupont brands, now Axalta: Chromax, Standox and Spieshecker
–          PPG group with PPG and Nexa
–          BASF group with Glasurit and RM
–          Akzo Nobel group with the leading brand Sikkens
Below I send all the "non-premium" brands mentioned by my colleagues during the discussion. Actually, I didn't know a few of them myself. The list is, of course, not exclusive, and there are many more decent companies in our industry.
–          –  Lechler www.lechler.eu
–          –  Mipa www.mipa-paints.com
–          –  MaxMeyer (PPG brand from Italy) www.maxmeyer.com
–           – Sherwin-Williams www.sherwin-automotive.com and Lazzuril (brand for South America) www.sherwin-auto.com.br
–           – Valspar brands (www.valsparrefinish.com ): Debeer www.de-beer.com and Octoral www.octoral.com
–          –  KCC paint (Korea) www.kccrefinish.co.kr
–           – Akzo Nobel brands: Wanda www.wandarefinish.com; Lesonal www.lesonal.com  and Dyna Coat www.dynacoatcr.com
–          – Automotive Art Paints (USA) www.automotiveartpaints.com
–          – Noroo Paint (Korea) www.autorefinishes.co.kr
–          –  Kapci (Egypt) www.kapci.com
–           – General Paints (Lebanon-USA) www.generalpaint.biz
–           – Axalta www.axaltacs.com (former Dupont brands): Nason USA, Challenger, Duxone
–           – Palinal (Italy) www.palinal.com
–           – Kilani National (Jordan) www.kilanipaints.com
Finally, from my side I wanted just to add three Japanese brands, which are very strong in Asia, and we may see them soon in other markets very soon.
–          Nippon Paint www.nipponpaint.com
–          Kansai Paint www.kansai.com
–          Rock Paint www.rockpaint.co.jp
I thank everyone who participated in the discussion, and especially below colleagues, who were very active with their input:
Thomas Hill (USA), Rob Dumais (Canada), Daniel Holmes (UK), Francisco Racz (Brazil), Sanjay Bhatia (India), Ron Fraley (USA), Andrew Hamburg (USA), Andre Ferreira (Portugal), Hamid Elhalfi (Marocco), Jose Carrilho (Portugal)
As a desert, please check out below the ad from the American brand Matrix. I think it is very funny. Do you recognize the characters?