It has been a while since I wrote my last post about bodyshop's revenue growth ideas. So, here you are. We all know that vehicles in a modern city are prone to scratch or bump their wheels. High pavement borders and parking bumpers are one of the most common objects damaging alloy wheels and compromising the overall appearance of the vehicle. These ugly scratches and curb scrapes are highly visible and impossible to hide. This is why offering alloy wheel refinishing could be very profitable service every bodyshop could offer. Average cost per repair maybe something between 30 to 80 Euro per wheel.
What you can repair without investing in expensive equipment?
Note that not all alloy wheel repairs can be done without investment in expensive equipment. I would recommend avoiding repairing cracked or buckled wheels. These kind of repairs require special equipment like diamond cutting lathe or wheel balancing and alignment machines.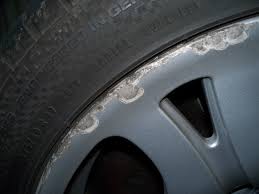 What type of repairs you should include in your services portfolio?
The majority of alloy wheels have minor scratches, peeled off clear coat and curbs. These damages can be repaired either by abrasive polishing or by refinishing. Also, you can offer colour change as additional service.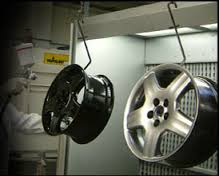 What is needed to perform wheel repairs?
You don't need something extraordinary in order to proceed with cosmetic repairs of alloy wheels. In case of polishing, you need a compound suitable for metal or aluminium. If the wheel is coated by clear coat, a normal automotive polishing compound will do the job. Polishing balls would be also very useful in order to polish a difficult to reach areas of the rim.
If scratches are too deep, you will need to prepare the wheel's surface just as you would do with a car body. Use polyester putty with aluminum particles to fill up the scratches. This kind of filler has very high mechanical strength, and in addition, it withstands higher temperature to which a wheel may be exposed to. Mini spray gun, like Devilbiss SRI PRO is also very good solution for base coat and clearcoat application. Make a final touch with tire cleaner and restorer ensuring that your customer's wheels look like new.