Variable costs
In the previous part of Collision repair management 101 we discussed fixed costs in a bodyshop. Actually fixed costs, apart probably advertising expenses, are very difficult to decrease quickly. Whether your bodyshop is fully loaded with work or not, fixed costs still come in form of bills end of each months.  Variable costs, by definition, vary depending on the amount of work load, or, in other words, the more cars have been repaired the higher will be the variable costs. Usually a manager or owner of collision repair workshop has more influence over his variable costs, and therefore, careful management is crucial. Note that increasing variable costs is not necessarily a troubling sign. Nonetheless, just like all types of expenses, variable costs define the profitability of the bodyshop overall.  So, what are the types of variable costs in a typical bodyshop?
Commission or hourly wages of employees. As it was already mentioned in the previous article, fixed salaries go to fixed costs column, yet bonuses, profit percentages and hourly wages depend on the amount of repairs conducted.
Various freight costs. If you buy spare parts, for example, and the transport cost is on you, then it is also variable cost. The lower you pay for the courier service the better.
Office supplies. As any business, bodyshop is in need of printing consumables, office paper, clips and other stationary, which decrease bodyshop's operating margin. Believe it or not, but office supplies can also be sizable expense if not managed properly.
Recycling costs are normally also considered to be variable. The more paint you use the more cans or cleaning thinner you need to recycle.
Equipment maintenance costs, like, for example, spray booth service expenses are also variable, because the busier is the bodyshop, the more hours spray booth is used.
Production supplies. Well, this cost includes all the paint and non-paint materials used by a bodyshop in order to perform repairs of the vehicles after the accident. Let me go into detail on bodyshop supplies a bit, since it is my core business and life passion.
I have heard many theories about the level of consumables cost a bodyshop must have in relation to the total dollar amount billed per job.  A normal and fair formula for charging a repair job should include two main components: labor and paint and consumables costs. On both components a bodyshop should have some profit. It is considered by some experts that paint and materials costs shouldn't be higher than 10% from the total bill. You wish. Note that by paint and consumables we mean everything your local paint supply store provides you with, like abrasives, tapes, sealants, fillers, primers, paint, clearcoats, personal protection materials, masking products etc. In the real life though, percentage of material cost can be much higher. The main reason is that in many countries insurance companies prefer a fixed cost per job. I can name you many countries where the average refinish cost for a door will be below 50 Euro (Albania, Georgia, Serbia etc), while in Sweden the cost will be about 250 Euro or in New Zealand about 300 NZD. In my home country – crisis-hit Greece -many bodyshops accept to perform repair of a door for as low as 60 Euro. How is that? As you can easily calculate, in a total bill of 50 Euro you can hardly achieve 10% materials ratio. Remember, the lower is the average payment per detail in the market the higher is importance of paint and materials expense.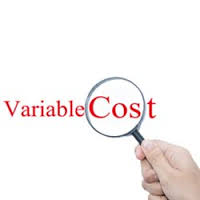 Economies of scales in a bodyshop
Whether you know or not what is the term of "economies of scale", it would be good to say a few words how this economic parameter is applied for the car refinishing business. In plain English, economies of scale is a cost advantage that bodyshop obtain due to its size and scale of the operation (number of repairs per time period). Larger bodyshop will benefit from quantity discounts from his suppliers, also it can obtain better loan interest rates from the bank and fixed costs will be spread over greater work output.
To conclude, I would like to emphasize the importance of meticulous approach to variable costs assessment in a bodyshop. Remember, "the cheaper the materials the better" theory is not a solution either. The overall repair bill, as it was said before, depends on labor and materials costs. If you simply go for cheaper, but inferior quality materials, then you will inevitably face claims and expensive re-works, not to mention the damaged image. Choose fairly priced, decent quality and reliable paint and non-paint consumables. Compare, test and be open for new products and brands. Old success recipes may not be valid today.