Just a few weeks ago I had a
conversation with a car body shop owner, who complained to me that to find a
good painter nowadays is difficult. All the candidates claim that they are as
good as close to perfect, but after a week of a trial you understand that this
is very far from truth. Huge waste of time and money. Well, I believe that to
find a good employee for any position is difficult, yet, perhaps, some initial
theoretical screening would be helpful at least to give a chance of a trial
week to more or less capable people. But what questions to ask? I posted a
discussion about this on Linkedin groups: If you had just 3 questions to
ask a painter to be hired in your body shop, what would be those questions? There were quite a few suggestions, so I picked
up 7 of those.
1.            1.
Explain
the steps you take to prepare a car for painting a partial blend in?
It is a
well-known fact that colour matching is quite a challenge for any bodyshop. A
big number of modern car colors are very difficult to match simply by tinting,
therefore blending is a crucial skill required for any bodyshop painter.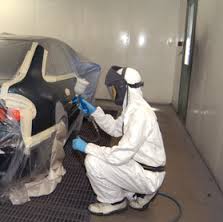 2.           2.
What
is the difference between conventional, HVLP and Reduced Pressure (Trans-Tech) spray guns?
Spray gun
is probably one of the most important single piece of equipment in collision
repair shop. Besides the different brands of spray guns, there are also three
distinctive types of technologies used. A potential car painter must know the
basic difference between these 3 technologies, as well as explain where and why
he would use certain type of spray gun.
3.
3. What
should you do to avoid paint/clearcoat runs?
This is
the question about the car paint defects. Every painter must be able to
identify, to prevent and to eliminate most common automotive paint defects.
Usually, there are more than one potential mistakes or causes for each paint
defect. For example, runs may occur due to incorrect paint viscosity, wrong
pressure setting of a spray gun, extreme temperatures and/or a use of
unsuitable thinner or hardener.
4.
4.  What
should you do when bare metal is exposed?
Bare
metal must be treated in the right way so that no corrosion will occur.
Normally, a knowledgeable car painter will name at least two primers to treat a
bear metal or aluminium spot: wash primer (etch primer) or epoxy primer. Only
after this step, acrylic primer must be applied. If the candidate also names
"direct to metal" primer as third solution, available from some producers, it
means that he is very well familiar with all existing anticorrosive materials
available.
5.                 
5. Are
you experienced with raw plastic adhesion process from the paint line you used?
Modern
cars have a lot of plastic parts, including bumpers and spoilers. A candidate
must know precisely what is the procedure to treat plastics so that no peeling
off happens.
6.
6. What
are the paint codes for the toughest paint colours you have ever come across?
An
experienced car refinishing professional would easily name car paint codes,
which are troublesome. For sure, there is no list of such automotive colours
available, yet just naming a few, a candidate would show you that he has an
experience with different colours.
7.
7. Why
paint clouding (mottling) occur?
      Another
question from paint troubleshooting guide is about clouding problem, which is
in other words      an uneven distribution of metallic particles in colour. Among
the major causes of this problem, a candidate could mention incorrect spray gun
pressure and set up, as well as wrong flash off times.
      Certainly, this list of questions is just a
suggestion, and it is not exhaustive. Nevertheless, bodyshop manager should
always keep in mind that it is much better to make some brief theoretical quiz
prior offering even a trial period of employment.
      I thank everyone in our LinkedIn group, who took time
to make a comment, and especially Darius Cole, John Shoemaker, David Hanson,
Kim Harrison, Ted Williams, Yvon Robichaud, Agus Sunarko, Paul Maclean, Mark
Benner, Dave Ramage, John Thatcher, Brendan Thesingh, Rob Dumais, P B Deshmukh,
Ervyn Moore, Carlos Duran, Darrin Bernatowicz.